Agile Service Management with Scrum
On the way to a healthy balance between the dynamics of developing and the stability of managing the information provision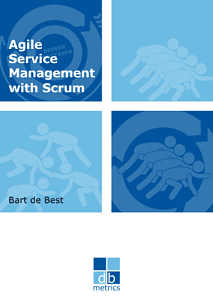 The application of Agile software development is increasing very rapidly. Words like Scrum and Kanban have already been incorporated into many organisations. Agile software development requires a different approach to software management. Many organisations want to get their heads around this new challenge.
An particularly important aspect is the interaction between the Scrum development process and the support of the software that has been delivered via the Scrum method. This book discusses this interaction in depth. Some examples of topics that are called out are service portfolios, SLAs and the handling of incidents and change requests.
| | |
| --- | --- |
| Title | Agile Service Management with Scrum |
| Subtitle | On the way to a healthy balance between the dynamics of developing and the stability of managing the information provision |
| Language | English |
| Auteur | Bart de Best |
| Pages | 124 |
| ISBN | 978 94 92618 085 |
| Edition | 1st |
| Released | Oct 2017 |
| Publisher | Leonon |
| Ordering | www.leonon.nl |
This book first defines the risk areas when introducing Scrum and Kanban; secondly the various Agile terms and concepts are discussed. The implementation of Agile service management is described both at the organisational as the process level. For each of the support processes, the relevant risks are identified and defined how to describe them within the Scrum context.